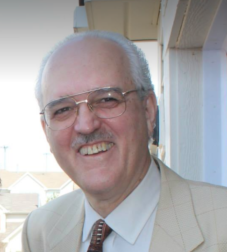 Brother Bruce has been with the Rivers ministry from its beginning and is a graduate of the Rivers Ministry Development Institute School of Ministry and has served in several ways. He gets joy when he can sit with a member to discuss, encourage and inspire them in their journey of faith or in finding their kingdom purpose.
Brother Bruce enjoys a good story and the Bible is
full of them and he gets excited about teaching Bible 101 where many of the biblical stories are brought to life and put in a faith context.
Bro. Bruce has been involved in, and is always energized by, teaching and collaborating with the men coming up in the next generations. He enjoys watching how the Holy Spirit can light fires in the souls of young men and then be a part of guiding that fire into a faith filled kingdom purpose destined to change the world. One of the life changing experiences Brother Bruce still gets excited about was the Rivers' Team trip to Ghana in West Africa where a group of ten went for 15 days in 2005. He saw how faith
and prayer made an essential difference as we traveled to be a blessing to the ministry there. His passport is up to date and he is ready for the next Rivers venture abroad.
He brings a wide variety of experience to Rivers including Career Coaching, Civil
Engineering, Urban Ministry, and Staff Development in Math and Science. Most recently he has worked as a Career Coach assisting workers who have been recently laid off to find new jobs.
His mission in life is to COACH, TEACH AND INSPIRE DIVINE PURPOSE AND PROSPERITY IN ALL! This is the lens through which he looks at his work and ministry.
Scriptures that undergird Brother Bruce's mission are:
Micah 6:8 (NKJV)
8

He has shown you, O man, what is good; And what does the LORD require of you
But to do justly, To love mercy, And to walk humbly with your God?
1 Thessalonians 2:11-12 (NIV)
11

For you know that we dealt with each of you as a father deals with his own
children,

12

encouraging, comforting and urging you to live lives worthy of God, who
calls you into his kingdom and glory.
The Requilez' are blessed to have nine children, and twenty-four and counting grandchildren, as well as a constantly growing number of spiritual children.
In 2017 he orchestrated and volunteered on a team mission trip to Houston, TX to aid in Hurricane Harvey Relief efforts. (video below)
Brother Bruce is privileged to walk side by side with Pastor Linda as she leads the way in bringing a Holy Spirit inspired kingdom empowerment reality into the lives of people across the world.