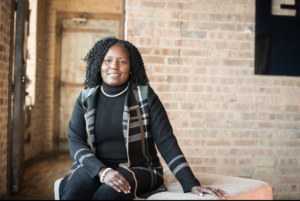 Linda Requilez
Pastor/President /CEO
Linda Requilez, had an experience of God's power, when she accepted Christ during a time of Revival in her teens. During the Revival she gained an understanding of God's love and experienced the power of the Holy Spirit. Faith-based spirit-led bible studies, and getting to the heart of worship was and
still is her desire with meditative songs and dance in her heart, "Jesus is Just Alright With Me," and "Lift HIM Up: how to reach the masses, Jesus is the key… If Christ be lifted up, Christ will draw all unto Him." That desire is revealed and expressed as "Christ In ME, the Hope of Glory."
Linda Requilez is the pastor of Rivers of Living Water Christian Center (Rivers), which is currently in "Cyber-Church" mode. Rivers has worked extensively on the north and west sides of Chicago. She and several members have been completing school, establishing businesses, and entering various vocations/spheres of influence in preparation for launching an "Empowerment Institute" that engages people in collaborative empowerment efforts and ministers both spiritually and naturally locally and internationally. These Empowerment ministries and moments can and often do happen quickly and may pop-up anywhere in the world.
Pastor Requilez has often been seen as a "Jump-Starter"—with a revelatory anointing sensitive to the movement of the Holy Spirit and then responding appropriately and quickly to bring glory to God. Rivers, under Pastor Requilez' leadership has that quick acting Kingdom response capacity. This spiritual vision seeks to bring in the kind of Fasting God desires in Isaiah 58:6-7, where the prophet Isaiah lays out the heart of our God with a vision that is consistent with the call of our Lord Jesus in Luke 4—loose the
chains of injustice; break the yokes and set the oppressed free; feed the hungry; provide shelter and clothing to those in need; and take care of our own families and brothers and sisters in Christ, and others as well.
Some have said that Pastor Linda does not play when it comes to the things of God. She is very fun-loving and cares deeply for people—she loves to collaborate with like-minded saints, and others—and yet her bottom line is to focus on moving forward, making a difference, and changing the world for the better—where God's Kingdom comes and His will is done right here on earth as it is inHeaven.
She received her call to ministry while attending Living Word Christian Center's School of Ministry and Leadership and has been ordained since 2003 by two non denominational ministries. She is a member of Faith Ministries Alliance (Chicago) and the Association of Independent Ministries (Houston). She also has a Master degree from Northeastern Illinois University in Human Resource Development; a Master of Divinity, and Master of Business Administration from North Park Theological Seminary and University, respectively.
God has given her a heart for missions both in the city and abroad. Rivers has ministered to refugees in the Albany Park community of Chicago, and Pastor Linda has gone on several mission trips to: India, South America, Central America, UAE (Dubai), and Africa.
She is married to Bruce Requilez, and they have nine children, and twenty-four and counting grandchildren, as well as a growing number of spiritual children.
Her core message is "Christ In You, The Hope of Glory." (Colossians 1:27-28)
She is a soldier in the army of the LORD, called to FACILITATE,PREACH, AND TEACH IN ALL WISDOM.